SWISOK 「Sea Lion Ⅱ」 Huge Dildo Anal Plug
Regular price
Sale price
$49.99 USD
Unit price
per
Sale
Sold out
Sea Lion Ⅱ
Welcome to the sailing world of SWISOK!
The cute animals in the sea may also be one of our prey~We were pleasantly surprised by the presence of Sea Lion Ⅱ.On the basis of the Sea LionⅠ, the Sea Lion Ⅱ has changed the inclination of the shape through the position of the bottom suction cup, from a tall and straight posture to a slight upward inclination, which seems to be eager for your riding.The protruding head is small and rounded, providing a seductive entry for your ride.Of course, the transition from the head is a thick and strong body.Same as the Sea LionⅠ, the shape of the Sea Lion Ⅱ does not have too many bumps and textures. It looks like a ride without ups and downs. In fact, it has found your sensitive point and set off towards your hole. The bottom of the toy features a large silicone suction cup with considerable suction power which for Hands-Free Play.The powerful suction releases the freedom of your hands. It can be attached to any smooth surface such as a mirror or wall. It can be used and retracted vertically or horizontally on the wall. The unisex penis stimulates the G-spot and prostate, whether single or couple use, just enjoy it.
How would you choose from Sea LionⅠand Sea Lion Ⅱ?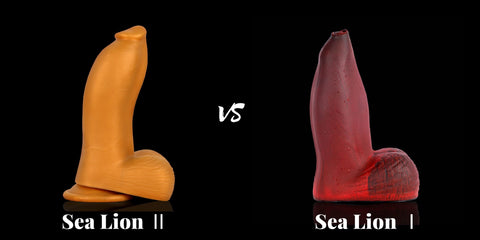 Specifications
S Size
Full length: 7.48 inches
Insertable length: 5.31 inches
Weight: 549 grams
M Size
Full length: 8.66 inches
Insertable length:6.29 inches
Weight: 889 grams
L Size
Full length:9.84 inches
Insertable length:7.48 inches
Weight: 1913 grams
XL Size
Full length:11.41 inches
Insertable length:8.26 inches
Weight: 1913 grams
XXL Size
Full length:12.20 inches
Insertable length:9.44 inches
Weight: 2616 grams
Shipping

We will offer Fast Free Shipping Service within 48 hours after you placed order.
Share